The Best Generator for Hurricane Season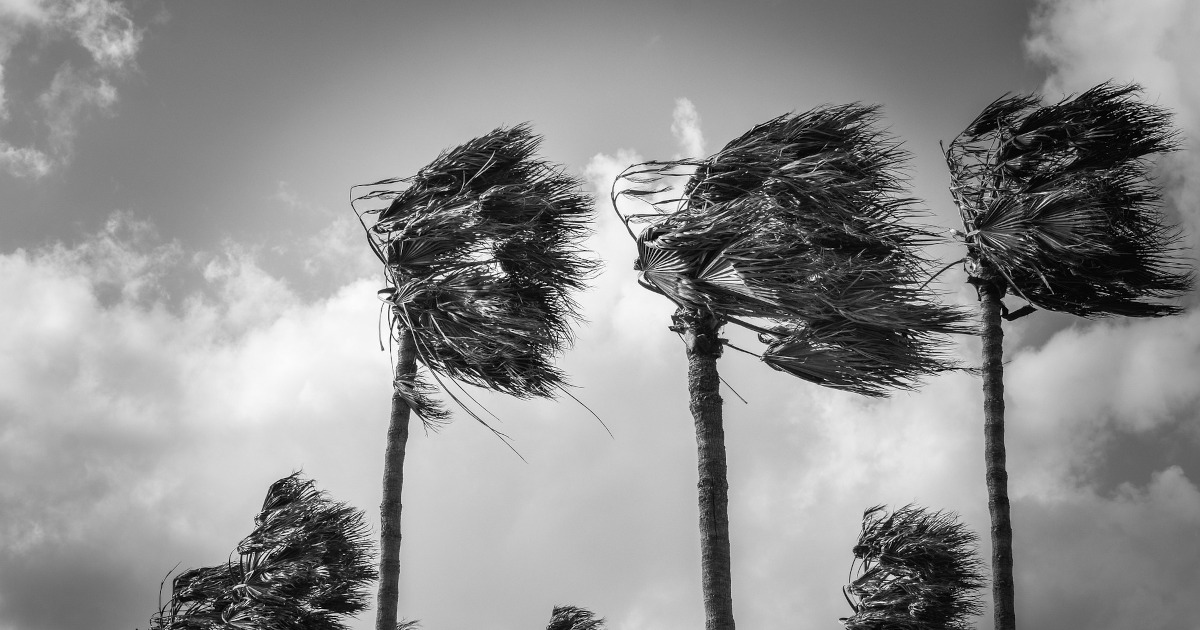 Palm Tree Fronds Blow in the Wind Ahead of a Hurricane Landfall
If you live in the United States in a state bordering the East Coast or Gulf Coast, or anywhere in the Caribbean, a Hurricane Generator is a good investment. Seldom, if ever, does a year go by without at least one hurricane or tropical storm impacting the coast or the Caribbean. The top hurricane hazards include extreme wind, storm surge, and inland flooding. They also destroy local power grids—repairs take days, weeks, and sometimes even months.
Hurricane Preparedness Articles
Table of Contents
Hurricane Generator
Following Hurricane Sandy, some residents waited up to five weeks for power restoration. A few waited much longer. According to New Jersey resident Bob McGregor, here and there you would find someone using a generator—if they could find gasoline. For almost everyone, their perishable food ended up in the trash. Roads blocked by downed trees delayed the utility and first responders. Some residents could not reach stores for food and supplies.
Hurricanes spawn tornadoes, which add to havoc and destruction. Watch any tornado storm chaser video and you will see flashes of light caused by electric arcs as the tornado breaks power lines and knocks utility poles to the ground.
A Hurricane Power Outage can leave millions of people without power for days, and thousands for weeks. Hurricane Ida made landfall on August 29, 2021, leaving 1 million Louisiana electricity customers (approximately 3 million people) without power. Entergy estimated the storm destroyed 30,000 utility poles. It also cut all five transmission lines feeding the New Orleans region. As the storm affected other states, an additional 200,000 customers lost power. On September 15, Entergy estimated that complete restoration would take until the end of September.
That's more than a month without power for some customers. To Entergy's credit, they reconfigured a local power plant and brought it online to power hospitals and other critical infrastructure. In most cases, that is not an option. Those who owned a hurricane generator used it for days or weeks.
Features of a Generator for a Hurricane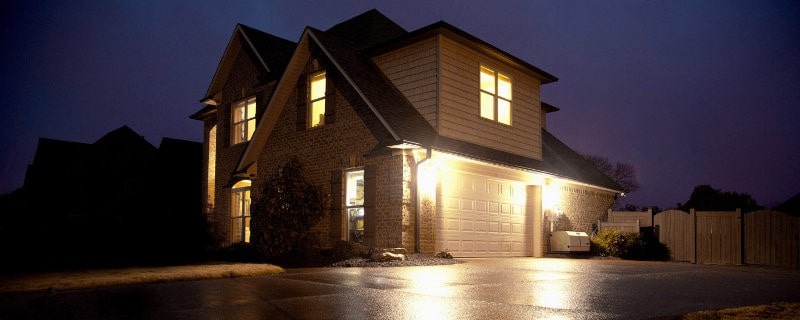 Generators come in many sizes and require different fuels. One feature of a generator for a hurricane is its ability to use a fuel that is readily available. After a hurricane, gasoline and diesel are less available. A hurricane generator that runs on propane or natural gas has an advantage.
Dual Fuel generators run on propane or gasoline. Tri Fuel generators also run on natural gas. Municipal natural gas provides a nearly endless supply of fuel. A generator could run for months, provided the owner keeps the maintenance up to date. If you have natural gas available to you, a tri fuel generator could be what you need.
If you don't have natural gas, or the city shuts off the supply to make repairs or prevent natural gas leaks, propane is the next best option for a dual fuel or tri fuel generator. It is easy and much safer to store. A couple of hundred-pounds tanks could last up to two weeks, or you could invest in a larger above ground or below ground storage tank.
However, gasoline has advantages. Both propane and natural gas carry significantly lower amounts of energy, and that is reflected in how much power these generators can produce while operating on gaseous fuels. If you need full power, gasoline is the way to go—but you'll need a safe method of storage for that much gasoline.
A generator with a 50-Amp or 30-Amp 240-Volt outlet can connect to a manual transfer switch and power a good portion of your house, including A/C and Furnace. You make a single connection between the generator and the inlet box (240-Volt receptacle in a box), start the generator, and after selecting generator power on the switch, your home has power to the circuits supplied by the transfer switch. It's safe, fast, easy, and the best way to connect a generator to your home.
Remote Start has an advantage. Set up the generator before the storm hits, and when the power goes out, start the generator.
One last feature to consider is the maintenance schedule and ease of maintenance. If you run the generator 24/7, a 25-hour schedule means changing the oil every day. Fifty hours is every other day, and 100 hours is every 4-5 days. Check the maintenance schedule before you buy.
Consider a home standby generator. They run in any weather, start automatically just seconds after the power goes out, and some models run for up to 200 hours before they require maintenance. Even if the power goes out in the middle of the hurricane, the generator will start and run—automatically.
What Size Generator Do I Need for a Hurricane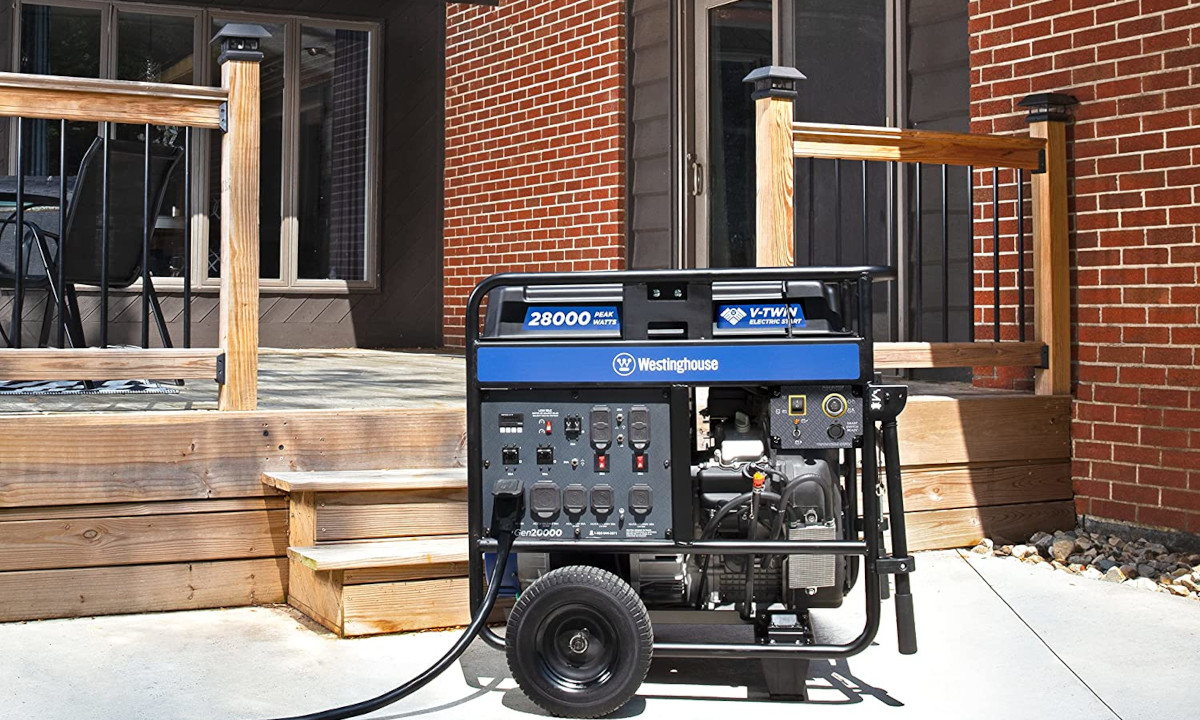 It sounds like a simple question, but it is not. Although some people get by with less, 5500-7500 watts can keep your food fresh, some lights on, and run a pump or two if necessary. You could run a small window air conditioner, or perhaps a small (1.5 to 3 Ton) central AC unit, and your gas, forced air furnace.
As the number of appliances goes up, so will the required power. Also remember that appliance size is not indicative of the power requirement. A hair dryer uses twice the power of a refrigerator, for example.
Make a list of the appliances that are most critical to you during a hurricane outage. Find their appliance tag and electrical information to determine how much power each requires. Then use a Power Calculator to estimate your power needs.
Don't forget to determine the starting watts required for larger appliances like refrigerators and AC units. Motors need 2-4 times the power to start as they do to keep running.
The power calculator will help you determine a minimum size generator. Add at least 15-25 percent so the generator does not run at maximum power most of the time. If you're looking at a standby generator, then consult an installer before making a purchase.
The Best Portable Generator for a Hurricane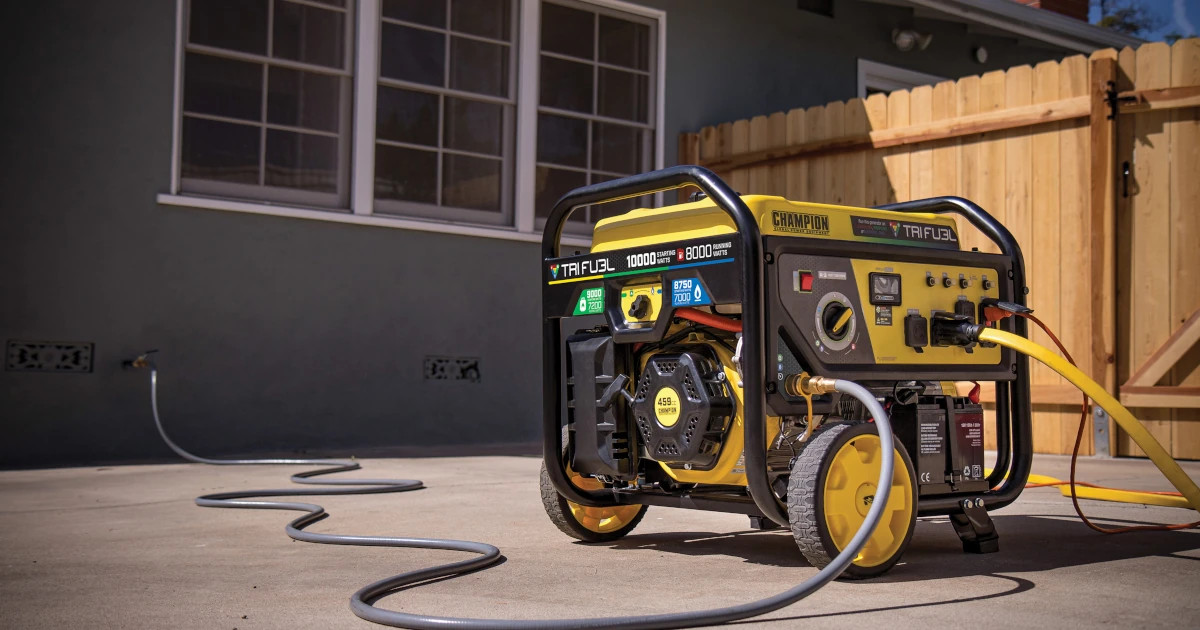 When fuels like gasoline or diesel are in short supply, it's a good idea to have a backup plan. Even better, make gasoline or diesel your backup plan. A tri fuel generator will run on gasoline, propane, and natural gas. The only drawback of propane and natural gas—they produce less power than gasoline. Be sure to read the specifications and select a model that produces the power you need, plus a reasonable margin.
Don't have natural gas available? Then a dual-fuel generator is an option you should consider. Some can switch from gasoline to propane and back again without shutting the generator down. Great for a very long run time—provided you do the maintenance on time.
8000 Watt Hurricane Generators
For a gasoline only generator, the GP8000E has some very good features. Run it for 100 hours before changing the oil, 200 hours between spark plug changes. You'll use about 17.25 Gallons of gasoline per day, one of the lowest of the 8000 watt generators reviewed.
elect between three different fuels: Gasoline for the most power at 8000 watts, propane for 7200 watts, and natural gas for 7000 watts. 100 hour oil and spark plug change interval. EPA Certified, CARB compliant. Carbon Monoxide detection and shutdown feature. At 50% the rated load, a 20-pound propane tank lasts about 5 hours. It sips gasoline at the rate of about 16.3 gallons of gasoline per day.
This Dual Fuel generator runs on gasoline (8000 Watts) or propane (7600 watts). Most generators with 240 volt outlets need the load somewhat balanced between two 120-volt lines, but the DuroMax XP10000HX has an MX2 switch that allows the generator to supply 120 volts only at full power. Carbon Monoxide Detection and Shutdown feature. At 50% the rated load, this generator burns 25 gallons of gasoline a day and 40 pounds of propane every 8 hours.
The dual fuel 8000 watt generator from Champion runs on gasoline (8000 watts) or propane (7250 watts). It has a 100-hour oil and spark plug change interval. It uses about 18 gallons of gasoline a day at 50% load.
12000 Watt Generators
Westinghouse 12000 Watt Dual Fuel Generator
If you need exceptionally clean power, this 12000 watt portable from Westinghouse has less than 5% THD. Plus, you can switch between gasoline and propane without shutting down. It has a remote start Fob. Change the oil every 50 hours and you're good to go. A low idle switch reduces engine speed to save fuel when there's no load. You'll use about 23 gallons of gasoline or 80 pounds of propane per day at 50% the rated load.
This is a gasoline only generator, EPA Certified and CARB compliant. Used with a manual transfer switch, it will start and run a 2-ton air conditioner and forced air furnace. Expect to use about 28 gallons of gasoline a day at 50% the rated load.
At 15,000 running watts, this generator puts out more power than any of the others on our list. It can start and run up to a 4-ton air conditioner. The engine has a 100-hour oil change interval and the helpful hour meter aids in tracking maintenance intervals. It is gasoline only and can use up to 38-gallons per day. If you need more power from a portable than most people, this is the generator for you.
The Dual Fuel 12000 Watt Generator from DuroMax meets both EPA and CARB requirements. 12000 running watts on gasoline, 11400 running watts on propane. Expect to burn about 28 gallons of gasoline a day at 50% load. It will run for 8.6 Hours on a 60 pounds propane tank. This generator will start and run a 2-ton air conditioner and forced air furnace.
The Best Hurricane Whole House Generator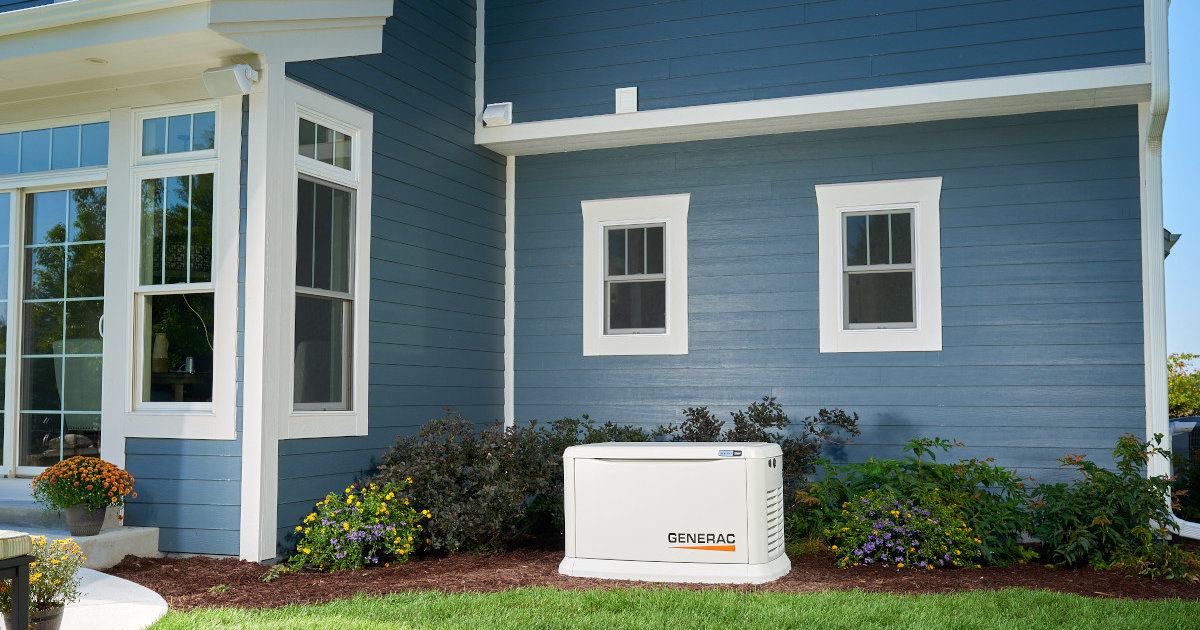 A standby generator can provide power for the entire home or just the essentials. The installer places the generator outside in a location selected for safety and by proximity to the utilities. New air-cooled generator installations allow as little as 18 inches of space between the unit and the home. Standby generators start and run seconds after the outage occurs. The transfer switch isolates the utility lines and then switches the house to generator power.
Features that Make the Hurricane Whole House Generator Stand Out Above Portables
1.They don't use gasoline. Most run on either LP Propane or Natural Gas. Diesel models are available if you don't have access to propane or natural gas.
2.No need to refuel—natural gas provides a nearly endless supply of fuel, and LP Propane stores in large tanks on your property. Properly sized, an LP tank of 250 gallons or more should provide up to 2 weeks before you call the supplier for a fill up.
3.They start and run in any weather. Automatically. If the hurricane is roaring and you're in your safe room, there's no need to head outside to set up and start a portable.
4.Exceptional power quality for electronics and appliances meets or exceeds the quality provided by the power company.
Whole House or Essentials Only?
A Whole House Hurricane Generator connects to the home's main service panel with an automatic transfer switch that controls the source of power. One side of the switch connects to the electric meter, the other side to the generator.
An essentials only generator powers a limited number of circuits, typically 8, 12, or 16. Usually, the essentials only generator has a lower capacity than a whole house generator for the same home. The upfront generator cost and installation is lower than for a whole house generator, but savings in fuel costs make it worth consideration.
While the most powerful portable generators top out at about 20,000 watts, a whole house generator ranges from 7.5kW to 26kW for an air cooled unit, or 22kW to 150kW for a liquid cooled model.
Choosing a Whole House Hurricane Generator
The process is similar to that for a portable generator. Make a list of everything that uses electricity and prioritize it, then use the power calculator to determine your power requirement.
Once you have your priorities and power needs worked out, talk to your installer before you make a final selection.
17kW-26kW Hurricane Whole House Generators
Generators packages include a 200-Amp, Service Rated whole house automatic transfer switch (ATS). Power Management options vary by manufacturer. You can also buy just the generator, but installation must include a compatible ATS, whether already in place or purchased separately, to meet a specific need.
Generac Guardian . The number one bestselling standby generator brand in the United States. Designed to make installation faster and easier, which saves you money. Comes in 18kW, 22kW, 24kW, and 26kW. All models run on natural gas or propane. The installer selects the fuel type during installation. Includes Generac's 5-year limited warranty.
Briggs & Stratton PowerProtect . Renowned worldwide for their legendary Vanguard engines. Available in 17kW, 20kW, and 26kW models that run on natural gas or propane. The 17kW and 20kW generators produce the full rated capacity of natural gas, unlike some competitors. Briggs backs the PowerProtect generators with a 6-year limited warranty that covers all parts, labor, and travel—the longest, most comprehensive warranty in its class.
Cummins Power Generation . Cummins, the engine manufacturer known worldwide, produces the space and fuel efficient 17kW and 20kW Quiet Connect Generators. The Extreme Cold package includes a factory configured generator that starts and runs at -40° Fahrenheit. These generators feature very quiet operation at 65 dBA or less. The 20kW can start and run a 5-ton air conditioner while supporting the house at full load. Includes a Cummins 5-year limited warranty.
10kW-14kW Hurricane Whole House Generators
Generac Guardian . Purchase the 14kW with 200-Amp Whole House Transfer Switch, or with a 100-Amp 16-Ciricuit Transfer Switch for powering essential circuits only. The 10kW package includes the same 100-Amp 16-Circuit Switch as the 14kW. Great for small to medium-sized houses. The 14kW operates at the full rated capacity running natural gas or LP Propane. Generac 5-year limited warranty.
Briggs & Stratton PowerProtect . Briggs equips their 12kW and 14kW hurricane generators with their commercial-grade V-Twin Vanguard engine. Packages include either 200-Amp or 100-Amp Whole House ATS, or a 100-Amp 16-Circuit ATS. Choose between Symphony II or Amplify Power Management (power management sold separately.) These generators are about the size of a central AC unit and come with the same 6-Year limited warranty covering parts, labor, and travel.
Cummins Power Generation . Purchase the 13kW Generator with or without an Automatic Transfer Switch. Both 100-Amp and 200-Amp ATS packages are available, along with the Extreme Cold model for temperatures down to -40° Fahrenheit. The Quiet Connect Series has a Cummins natural gas or propane 999cc V-twin engine. Generators include a Cummins 5-year limited warranty.
Champion Power Equipment . Champion Offers two generators in this class, the 14kW and the 12.5kW generators. Champion has the longest standard warranty in the air-cooled generator class, a 10-year limited warranty. Choose the 12.5kW with a 100-Amp 16-Circuit ATS or buy the generator only and add a compatible whole house transfer switch. The 14kW comes in several configurations with 100-Amp, 150-Amp, and 200-Amp ATS options. A V-twin OHV Commercial engine powers the Champion 12.5kW and 14kW generators.
7.5kW-8.5kW
Champion Power Equipment . Consumer Reports has rated the 8.5kW with 50-Amp 8-Circuit ATS a Best Buy since 2018. This generator backs up your most critical circuits and appliances throughout a power outage. Includes Champion a 10-year limited warranty—the longest standard warranty in its class.
Generac PowerPact . The Generac 7.5kW Generac PowerPact includes the 8-circuit 50-amp automatic transfer switch pre-configured for five 15-Amp 120-volt circuits, one 20-amp 120-volt circuit, and one 30-amp 240-volt circuit. The generator has a Generac 3-year limited warranty.
The Best Generator for a Hurricane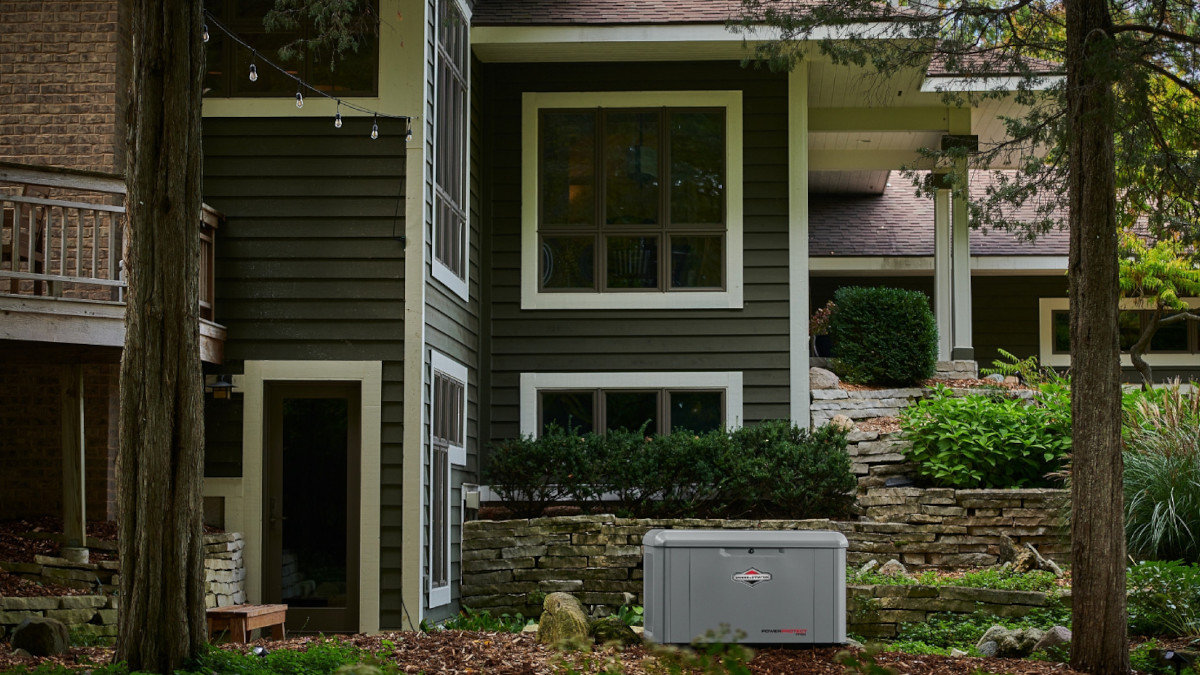 The Best Generator for a Hurricane is the one that fits your budget and fills your needs. Portables are great for limited budgets, but if you want to power hard-wired appliances like a furnace or AC, you still need an electrician to install a manual transfer switch.
Be sure to look at the maintenance schedule of any generator you plan to purchase. For long outages following a hurricane, you probably don't want to change the oil daily or every other day.
Readily available fuel is another consideration. Natural gas is always a good choice if it's available because the supply is virtually unlimited unless the utility shuts it off for repairs or if there is a leak. You can fill propane tanks at any station selling propane. The small 20-pound bottles won't last long, however. If your primary fuel is propane, you'll need a larger, permanent tank for long outages.
Gasoline is a powerful fuel, second only to diesel, but it is often in short supply following a disaster. Most communities limit gasoline home storage to 25 gallons or less because of its volatility. It also ages and, without a stabilizer, becomes unusable as engine fuel.
Power management is another consideration. With good power management that fits your lifestyle, a smaller generator that costs less than a larger generator can power your entire home. The big power users, like central air conditioners, might have to take turns. With a portable, the user manages power by turning off one appliance to give the power to a different appliance that needs to run. Standby generators do this automatically and use preset priorities to determine which appliance gets power. With some of the newer models, you can set priorities on the fly via a smartphone app.
The best generator for a hurricane is an investment in comfort, safety, and peace of mind. Whether it's a portable that you connect when you need it, or a home standby that powers everything, you won't have to worry about your refrigerated food or the freezer with hundreds or thousands of dollars of frozen good.
A generator for hurricane season might let you stay home instead of leaving. Some have said that the best hurricane generator is the next must-have appliance. In hurricane season, you're certainly better off with a generator than without.